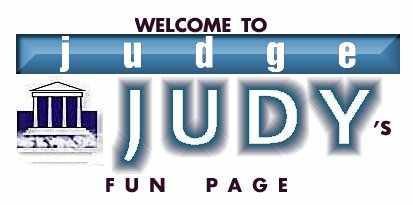 This page is better viewed with IE or Netscape and at a 800x600 resolution.
---
This page is dedicated to Judge Judy and is made for all of her fans. True! Some times her attitude is very strong for some people. However, she is always right and she gives justice. She is not someone to mess around with, and to be honest, we need more people like her!

---
Here are your options:

Select a link:

Meet Petri Hawkins-Byrd: A must see with vital stats of Judy's personal balif. Highly recommended


Judge Judy vs. Judge Wapner: A must see!!!


Fox 17's Official site of Judge Judy: A brief paragraph on her, plus an address to send comments and to request tickets to the show!


---

Buy her book online:

Buy the Book Today from Amazon.com




Judge Judy, a former New York City family court judge shares her thoughts on juvenile crime, welfare abuse, teenage pregnancy, the bureaucratic waste, American legal system, media and offers solutions to some of the problems confronting America today. Reprint.
Even better, give it as a gift to someone!


---

Catch her show online daily (Monday - Friday) at 4:00 pm (PST):

Channel: http://www.broadcast.com/television/shows/judgejudy/

Software needed:


---

Bio Info

Status: Married to ..... Her husband is also a judge.

Kids: Five. Three daughters and two sons.


---

Sign Judge Judy's Guestbook

---

---

This site belongs to Aaron Baldwin. Creation and design made by: Atheneon.com. The graphics of this site are copyright ©Atheneon.com1998. The copy and use of these images are strictly prohibited.

Assign to Atheneon the creation of your site(free of charge for personal pages)

Get free border sets from Atheneon

Last Update: 03/09/99

Please, take few seconds to rate this site: